Up for sale is a TADgear Stealth Hoodie LT in Green, Large. (They are OUT OF STOCK on Triple Aught Design's website and a refresh isn't happening until Spring, so this is a great opportunity to pick up an incredible jacket for less!) It's been worn a few times, not seen much use at all - it could stand to go to a new home. Email for more pictures.
$300 Shipped. Add 4% for paypal unless you can find a way to transfer money without me incurring fees.
Highlights:
Schoeller C-Change Softshell - Super TOUGH material, very water resistant
Reinforced Elbows for shooting when prone
2-way front zipper for fast access to sidearm / adjusting for comfort
All Zips have lamination
Lots of zippers for your gear, nearly all pockets have media loops for your Mp3 player
Zippers meant for access when having gear on your chest.
Pit zips
Stowable hood
You can put morale patches on the shoulders (Patches not included)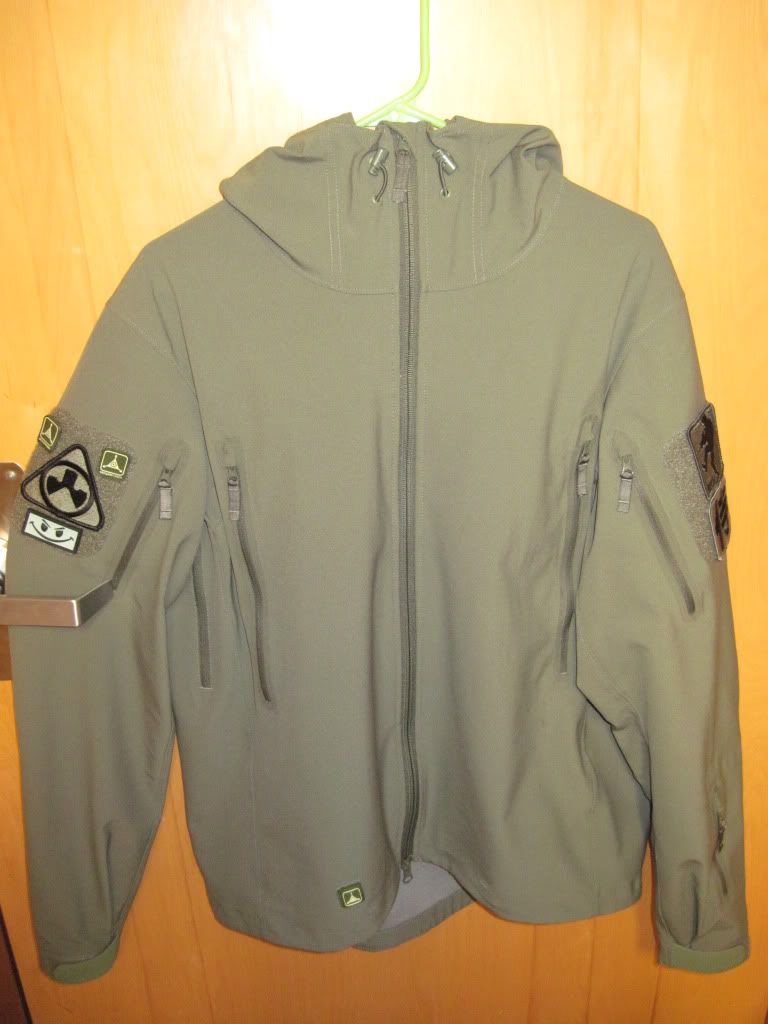 Information from TAD's website:
Introduced in 2002, our Stealth Hoodie has become widely recognized among military and outdoor users for its proven performance under rugged field use. For nearly a decade, we have continually evolved our Stealth softshell platform to meet real-world demands.
This season, we completely retooled the textile composition to achieve an ideal balance of weather resistance, durability and breathability. The new Stealth Hoodie LT is a three-layer system custom-engineered with Swiss-made Schoeller® textiles and treatments.
Adapts to your activity and environment
We built the system around c_change®, a windproof and waterproof membrane that literally adapts to the environment both inside and outside the jacket to provide the ideal body climate under a variety of circumstances. In the presence of heat or body moisture, the pores open to channel that heat and moisture away from the body, keeping you cooler and more comfortable. When it's cold or body moisture has not accumulated, the pores constrict, retaining heat inside the jacket.
The result: The Stealth Hoodie LT performs under a versatile array of circumstances. By adapting your layering system to the environment, you can take this jacket from spring through winter, and from arid high deserts to the humid clime of a tropical rainforest.
Stands up to rugged use
If you're maneuvering through rock or brush, the abrasion-resistant nylon face guards against snagging and damage. The durable, heavy elbow reinforcements resist wear, especially for those shooting prone or using their elbows for leverage.
Capabilities that add comfort during active use
Both face and tricot backing are treated with Schoeller's 3XDry®, a moisture management system that repels water, dirt and stains on the surface while absorbing moisture and perspiration on the inside. Functioning together, the backing transfers perspiration from the interior to the outside, where it evaporates rapidly to keep you cool and dry.
If you operate under the beating sun, you know how uncomfortable overheated gear is. We dye our nylon face in a process that incorporates Schoeller's coldback® treatment. Integral to the fabric itself, coldback builds in defense by reflecting UV rays to keep you cool while preventing the garment from fading.
The four-way stretch of the fabric gives you freedom of movement that's further enhanced by the single underarm panel from hem to cuff.
Functionality you can customize
To achieve the right fit and weather protection, you can adjust the velcro cuffs, cinch the cord at the hem or use the easily stowed Aero hood. We designed the fit to accommodate mid-layers, including the Ranger, Ranger LT, Pathfinder, Praetorian and Special Service Sweater. The pocket array gives you multiple storage options, including D-rings in the chest and upper arm pockets to dummycord your gear, keeping it both handy and secure.
Subdued style that transitions from field to city streets
Performance and function are the baseline requirements of everything we make, driving a style which is clean-lined and without superfluous details. The silhouette is modern and not bulky. Our color palette is subdued–based on natural hues that blend in, rather than the garish colors that mar your hard-won backcountry view.
From top to bottom, we designed the Stealth Hoodie LT to meet the demands of your boldest adventures, wherever they may take you.
Fit
•Standard
Material
•Schoeller® 3-Layer 240 g/m2
•6% Elastine, 21%, Polyurethane, 73% Nylon
•Treatments 3XDRY & coldblack
•Membrane: c_change
Patterning
•Welded, Reinforced Elbows
•Single Underarm Panel with Pit Zips
Hood Configuration
•Aero Hood Design with Stow Away Flap
•Adjustable Cinch Cord
•Two 1"x1"Velcro Loop Squares on the Hood Accommodate Ranger Eyes Or Glint Tape (Available on Patched Version Only)
Pocket Configuration
•Chest Pockets with Media Ports, D-Rings with Inner Stash Pockets
•2 Upper Arm Pockets with Media Ports, D-Rings
•1 Left Forearm Pocket
•1 Double-entry Hunters Pocket
•All Pockets Feature Zipper Garages and Pull Tabs
•Brushed Mesh Pocket Bags
Zipper Configuration
•Full Front Double Coil Zipper with Wind Flap and Pull Tab YKK® Zippers
•All Pockets Feature Zipper Garages and Pull Tabs
Cuff and Sleeve Configuration
•Adjustable, Velcro, Dyed-to-Match, Laser Cut Cuffs
•Two Optional, Upper Arm, 3"x5" Velcro Swatches for Morale Patches
Hem Configuration
•Adjustable Locking Drawcord
•Drop-Tail Hem
Logos & Labels
•One 1"x1" Loop Swatch with Removable Velcro Logo Patch at Right Hip