OAL & pressures
---
This is probably the hardest part of reloading for the newb. "What is the affect of OAL (over all length) & my handloads"? "How do I setup a proper OAL for my handgun"?
First, OAL is very gun & bullet specific. What works in a GLcok, may not work in a 1911 or a SIg, etc. You have to verify each OAL for each bullet you shoot. The easiest way to determine what works in your gun is make 4-5 dummy rounds loaded to max OAL in your data. Test them first in you removed bbl. The round should drop in & out freely & the rear of the case head flush w/ the bbl hood.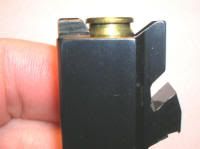 Now load all 4-5 dummy rounds in the mag & cycle them thru the action, they should run freely into the chamber of your now reassembled pistol. If the bullets do not fit the chamber or magazine, seat 0.015" deeper until you get reliable results. That is the max OAL for your pistol & that bullet. Work your loads up accordingly, matching as close as possible the data you are using. It's always safer to load a longer OAL, as long as they fit & function properly.
So what does all that mean? OAL matters in not only your functioning but also the safety of the load. With small volume, high pressure rounds, like the 9mm & 40 for example, seating bullets even 0.05" deeper than the data allows for can dramaticaly affect pressures. As a test, I loaded some 9mm & 45acp, then shortened the seating depth or OAL, & ran them over the chronograph. All things being equal, pressure often equals velocity. So an increase in vel by changing a component or OAL will show up as an increase in velocity. The following results were from my G17 & a 1911, all shot on the same day.
9mm, PD 115grFMJ, Win SP primers, once fired FC brass, 5.5gr of Unique:
1.090" = 1193fps avg/26fps SD (std deviation)
1.120" = 1130fps avg/38fps SD
1.140" = 1092fps avg/41fps SD
9mm, PD 115grMFJ, Win SP, once fired FC, 5gr of WST:
1.090" = 1163fps avg
1.120" = 1101fps avg/19fps SD
1.140" = 1090fps avg/41fps SD
9mm, cast 147grTC, Win SP, once fried Win brass, 3.7gr of Unique:
1.080" = 1020fps avg
1.100" = 982fps avg/25fps SD
1.120" = 964fps avg/29fps SD
You can see a dramatic increase in vel, which would mean also pressure, w/ only 0.050" deeper seating. None of these loads were max loads w/ any OAL tested, but you can see how running max & then seating too deeply or a bullet setback could be extremely dangerous in such a small volume high pressure case if you were pushing the max load limit. Also note the increase in vel was higher w/ the slower Unique loads. This could be better combustion w/ higher pressures or the fact Unique takes up more case room or both. No excessive pressure signs were noted.
With the 45acp, large volume/low pressure enviroment, you still have to pay attention to OAL.
45acp, 200grLTC, RP large primer, once fired Win cases, 6.5gr of Unique:
1.195" = 923fps avg/17fps SD
1.220" = 885fps avg/20fps SD
1.245" = 881fps avg/14fps SD
So for my same 0.050" deeper seating, I get much less vel gain, pressure increase. Seating 0.025" deeper showed very little affect at all. Moral of the this blog; pay attention to seating depth, it does matter, especially in high pressure /small volume cases. This goes for guys using factory ammo & rechambering their carry rounds. When the bullet gets more than 0.05" deeper, toss the round, it could be unsafe.
This chart from ATK showing increase in pressures w/ a 357sig deep seated shows the danger that bullet setback can have.
http://le.atk.com/pdf/357_SIG_Setbac...s-Pressure.pdf
Stay safe, good shooting.
fredj
Views
10557
Comments
3
Comments