The tale of the Shadow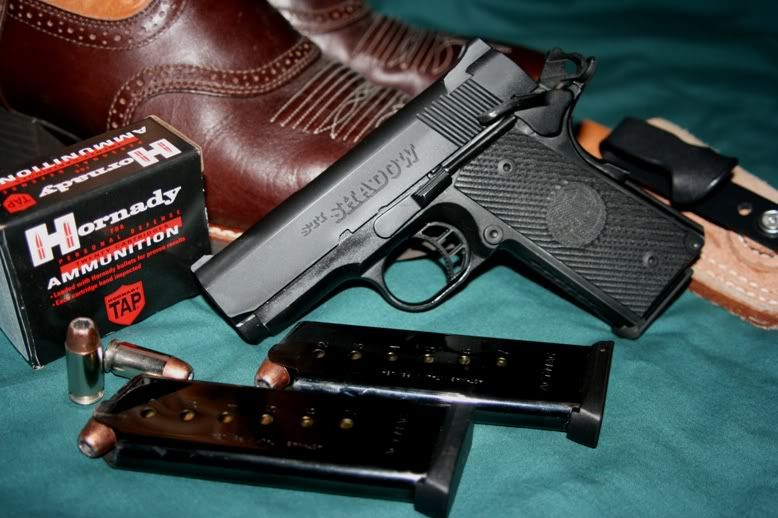 This is a tale about my absolute favorite concealed carry pistol. I first came across the STI Shadow in a local gun shop. I saw it sitting there in the case next to the other 1911s, but this one looked different, subtle even, and didn't really jump out at me at first. After a while though, the Shadow really caught my eye. It looked dark, shadowy even, with its matte black KG coating and the "STI Shadow" rollmark upon the slide. I flipped it over, and there, on the other side of the slide, was the outline of the great state of Texas. Not just made in the USA, made in Texas. What red-blooded Texan can resist that little touch?
Easy now, I said to myself, check it over really well before you do anything. You already have a Colt Defender. Do you really need a second officer model 1911? Of course you do shouted the voice over my shoulder!!! The Colt is great, it's reliable, I said. But it's shiny and stands out! It doesn't have night sights! It doesn't have a checkered front strap! Without the Hogue wraparound grips, it's a bit slippery! Grip tape is ugly, and, well, you just don't carry the Colt like you thought you would, said the voice over my shoulder. Easy now, I said to myself again.
Sufficiently calmed down and more objective now, I proceeded to give the Shadow a good inspection. After handling the Shadow in the store for a while, I knew it was the pistol I had to have for CCW. It fit my hand extremely well, and the G10 mycarta grips, stippled front strap, and checkered MSH provided a very sure grip without discomfort. The Heinie two dot tritium night sights, recessed into a grooved sight channel on the top of the slide, sealed the deal. Full size sights in a snag-free setup? Perfect. BUY IT!!! screamed the voice. Now convinced, I laid down the cash and was on my way.
My Shadow, chambered in .45ACP, came home with me that day and got a good cleaning. Knowing the perhaps overblown reputation small 1911s have for unreliability, I immediately ran 250 rounds of 230 grain FMJ PMC through it at the range the next day. Zero malfunctions. This was looking good, I thought. Next, I ran 100 rounds of Winchester 230 grain JHP through it. Zero malfunctions. Oh boy, this was looking REALLY good.
After going through 350 rounds that day, I took it home and gave it a good cleaning. I went back to the range several more times over a couple weeks, and after 750 rounds of various 230 grain FMJ and 250 rounds of various 230 grain JHP, including my chosen carry ammo, this pistol became my new daily carry.
Since that time, my Shadow goes with me everywhere it can. It usually travels in a Tucker Gunleather "Cover Up" IWB holster. I ordered mine from Tucker rough side out to assist the single kydex belt clip with keeping it in place. It's a great pair. Easy to put on, and easy to take off if necessary. Reholstering is a snap.
The Shadow has a bit of wear now, mostly holster wear and some wear on the front strap from carrying and shooting it as much as possible. I have yet to have a malfunction with either the factory magazine or the black low profile Wilson magazines I bought to carry with it. I did have a few malfunctions using the magazine that came with my Colt Defender, but those were clearly attributed to that magazine and I no longer use it with the Shadow.
How's the accuracy, you may be wondering? The two dot Straight 8 style sights are very quick to acquire, and though they may give up a bit of accuracy to a more target oriented sight, it is by a very slim margin. I don't particularly shoot for group size with handguns, and I never shoot them from a rest, but here's my take on the Shadow. Fifty round rapid fire groups offhand at 7 yards make one baseball sized hole. At 25 yards slow fire, I can keep things to a golfball if I'm not having a bad day. It's a very accurate pistol.
In the realm of CCW officer model 1911s, I highly recommend this pistol if you're looking for one in the +/- $1200 range. More expensive than the Colt Defender? Sure, but you get night sights, extended safety, stippled front strap, etc. for just $300 or so more. Hope you enjoyed the review and thanks for looking.
STI Shadow Specifications
Calibers: .45ACP (.40S&W, 9x19mm optional)
Frame: forged aluminum officer length
STIppled front strap
undercut trigger guard
oversized ejection port
Slide: carbon steel round top
integral sight channel
rear cocking serrations
Barrel: 3" fully supported and ramped bull barrel
Mainspring Housing: flat checkered polymer
External Safety: single sided STI extended thumb safety
Grip Safety: bobbed high rise knuckle relief beavertail
Sights: 2 dot tritium night sights
recessed into the slide
(Heinie Straight 8)
Guide rod: STI RecoilMaster system
Hammer: commander style
Other: Beveled Magwell
STI long curved trigger with stainless bow
G10 mycarta grips
Finish: KG black
Length: 7.0"
Weight: 22.8oz
Website:
http://www.stiguns.com
MSRP: $1370