Everyone, I wanted to share these pics with all of you even though the vast majority of them are not 1911s. Since posting my 1911 family pic, I received a few PMs asking my about my other firearms. In my responses, I had told those people I would eventually get around to taking pics. Well, I finally did, so here you go.
Quality is not great, as I'm not too good at family pics.
Anyway, please enjoy and thanks for looking. As you can see, I have some oddballs.
Brian
1911s
(You've seen these, obviously)
Top row:
RIA Government, ATI FX45 Military, Norinco 1911A1, IAC Regent, Para GI Expert, Auto Ordnance 1911A1, Cimarron 1911, EMF Hartford, Remington 1911R1, Springfield GI
2nd row:
Remington Rand USGI, Ithaca USGI, Firestorm DLX, Charles Daly EMF, Taurus PT1911, Iver Johnson Eagle, Thompson Custom, Desert Eagle 1911G, STI Spartan
3rd row:
S&W SW1911, Kimber Custom II, Colt Commander XSE, Colt Gold Cup Trophy, STI Trojan, Para 1911 Limited, Kimber Pro CDP II, Dan Wesson CBOB, Sig STX, Springfield TRP
4th row:
Fusion Commander Elite, Dan Wesson Valor, STI Legacy, Colt Special Combat Government, S&W PC1911, Kimber Super Match II, Wilson CQB, Wilson Classic Super Grade, Ed Brown Kobra Carry, Ed Brown Classic Custom
5th row:
Les Baer Concept V, Les Baer SRP, Nighthawk Predator II, Nighthawk Enforcer, RRA Limited Match, Springfield TGO1, Guncrafter No Name; Volkmann Combat Custom, Pistol Dynamics Signature
6th row:
Infinity single stack, Yost Retro, EGW custom, Morris Tactical Elite, Colt National Match, AMT Hardballer, Valtro 1998A1, Unertl DLX, Detonics ServiceMaster
9mm autos
Top row:
Browning Hi-Power, Browning Hi-Power, Custom Hi-Power, Browning Hi-Power Competition, HK P9S, HK P7M8, Norinco Tokarov 213, Helwan Brigadier
2nd row:
Kahr T9, TISAS Zigana K, Glock 19, Hi-Point C9, Walther P5, Walther P88, Walther P38, Mauser Luger
3rd row:
Llama Omni, Sig 2022, Sig X-Five, Sig P210-6, Pardini GT9, Beretta 92F, Taurus 92AFS, Steyr GB
4th row:
Springfield XDm 3.8, Sphinx Competitor, MAB PA15, S&W 952, Bernardelli P One, Star Model B, Star 30M
5th row:
S&W 3906, S&W 59, Jimenez JA Nine, Benelli B76, CZ 75B, Vektor SP1, SKYY CPX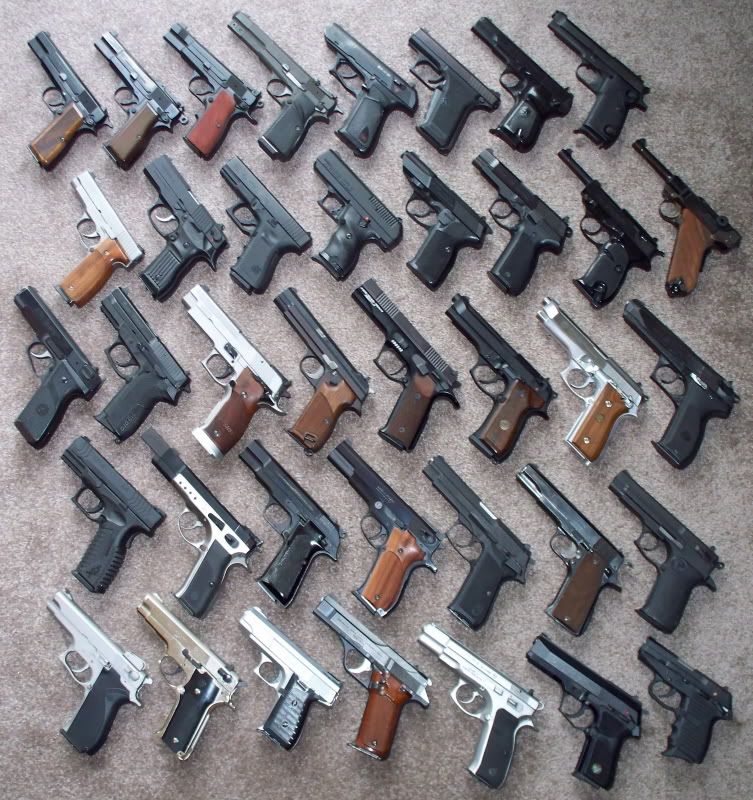 Everything else
Top row:
Desert Eagle, HK Mark 23, Automag III, Ruger Mark III, Browning Buckmark, Beretta Neos, CZ 75 Champion
2nd row:
Sig P220, Coonan Model B, Colt Double Eagle, Tanfoglio Witness Limited, S&W 945, Bren Ten, Beretta Steel I
3rd row:
HK P7M10, Daewoo DH40, Sig P232SL, Walther PPK/s, Mauser HSc, Glock 33, FEG PA63
4th row:
AJ Ordnance Thomas, CZ 97B, CZ 52, Ruger P90, S&W 52, Beretta PX4, FN FiveseveN
5th row:
Russsn Makarov, Bersa Thunder CC, Beretta Tomcat, Kel Tec P3AT, Walther P22, Llama 1911-22, RG 42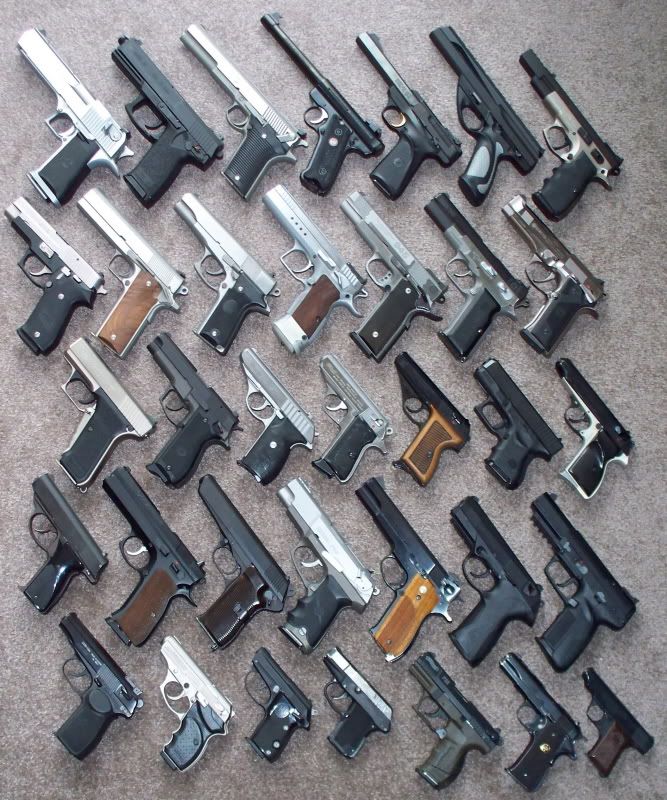 Revolvers
Top row:
Colt King Cobra, Colt Python, Colt Python, Colt Python, Colt Python, Colt Python Elite, Colt Python, Colt Diamondback, Colt Anaconda
2nd row:
Ruger Service Six, Ruger Blackhawk, Ruger Super Blackhawk, Ruger Redhawk, Ruger Super Redhawk Alaskan, Ruger GP100, Colt SSA, H&R 949, Heritage Roughrider
3rd row:
S&W M27, S&W M15, S&W M10, S&W M629, S&W M686, S&W M29, S&W M29, High Standard Sentinel, Korth Combat
4th row:
Rossi 971, Rossi 69, Cimarron Plinkerton, Century Model 100, S&W 460XVR, Dan Wesson 445 SuperMag, Freedom Arms 97, Taurus Raging Bull, Taurus 689