tapos na bros after months it is now in its full form
i also found the oldest pic of the gun prior to the mods done
springfield armory 38 super
Before
After
parts
Ed brown mag release
wilson beavertail
norinco hammer (yes forged kasi :D )
egw hard sear
bomar sights
colt short trigger
ed brown f-pin stop
13lb recoil spring
17lb mainspring
ed brown stainless grip screw
ed brown ambi safety
colt sear spring
Wilson barrel cut to 5.2 in
SA grips
LIGHTWEIGHT PARTS
sti titanium hammer strut
egw titanium mainspring cap
fibra guide rod
colt delrin polymer MSH
gunsmith- tony o
Some things I want to share.
- MARKINGS? you may be wondering what happened to the markings?well its quite a long story. im the third owner of this pistol the first owner had the markings removed bec of some licensing complications .i saw this pistol around 5 years ago sa old PPF nung buo pa markings and it is definitely orig.
-Wilson 40 cal magazines will work with this gun.wilson 47nx..it will hold 10 rounds of 38 super and is reliable..yes Wilson 40 cal.
-colt sear springs are the best
-The 38 super is not a rare cartridge at all. .if you know where to look there are shells and reloaders around.
-Magazines are hard to find wala sa mcs..but as said Wilson 40 mags will work and hold 10 than the mecgars which hold only 9.
- patience is a virtue all good things are worth waiting for.
---------------------------------------------------------
another in the making estimated completion late 2012 or early 2013 :
norinco frame
armscor slide.having it cut to 4 in.
ed brown 38 super commander bull barrel
most small parts are used na but quality parts naman like the machined steel thumbsafety and slidestop hindi cast pero mas mura pa .malaki din ang natipid ko from buying used small parts.more than 60% savings.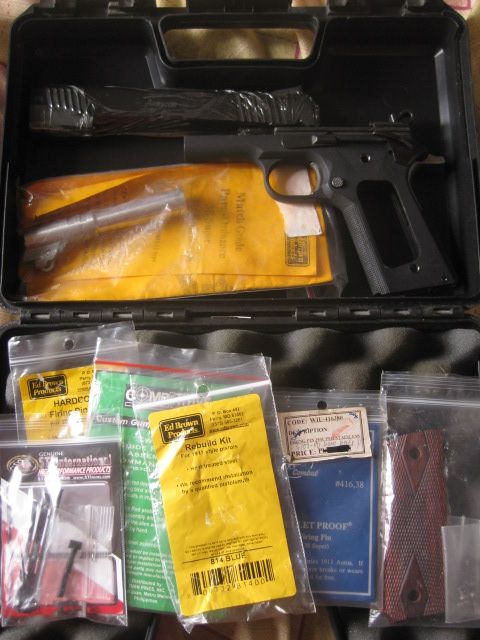 frame/slide/barrel = 29k
thumb safety/hammer/guiderod = 2k (ppf)
grips slim = 2k
ti mainspring cap = 900
sti sear = 2k
trigger = 700 (USGI)
slidestop = 700 (usgi)
mag catch = 700 (USGI)
mainspring housing = 600 (polymer sti)
rebuild kit ed brown = 1,800
grip safety = 600 (ppf)
ti hammer strut = 1k
sti disconnector = 1.4k
ed brown sear spring = 650
ed brown fpin stop = 900
wilson firing pin = 1k
extractor = 600 norinco spring steel kasi
ejector = 1.8k
15lb commander recoil = 650
17 lb mainspring = 375