In light of the MK9 versus PM9 thread posted earlier and the following quote contained within it....
Quote:
Originally posted by ilight I looked at a PM9 and just couldn't quite bring myself to invest in a poly gun that didn't seem as "durable" as my Glock 23. Whether or not my opinion was correct, I felt a little uncomfortable with the no metal insert poly frame rails, etc.
Let's put this "polymer only rail" Kahr myth to bed once and for all... I wish I could sticky this post since there's so much confusion/mis-information about the polymer Kahrs on these here internets.
edited to add: it got stickied...
I love my Glocks and they work great, but, for reference, there's actually more frame mounted steel rail bearing surface in the smallest poly Kahr than in any current production Glock.
From the trigger forward, there are complete steel rails on each side that ride in the cut outs on either side of the front of the slide. There are also rear steel rails/inserts on either side at the back of the frame. The polymer "rails" in between serve no structural purpose other than making the slide easier to guide back on during reassembly. In fact, when I asked Kahr about this, they said those poly "rails" could be completely cut out and would not affect function in any way.
Sorry for the less than stellar photos (of a PM9), but here goes...
Front of frame...notice the two steel rail inserts running from the trigger area forward. The three coiled spring in the center is the trigger return spring around the trigger axis.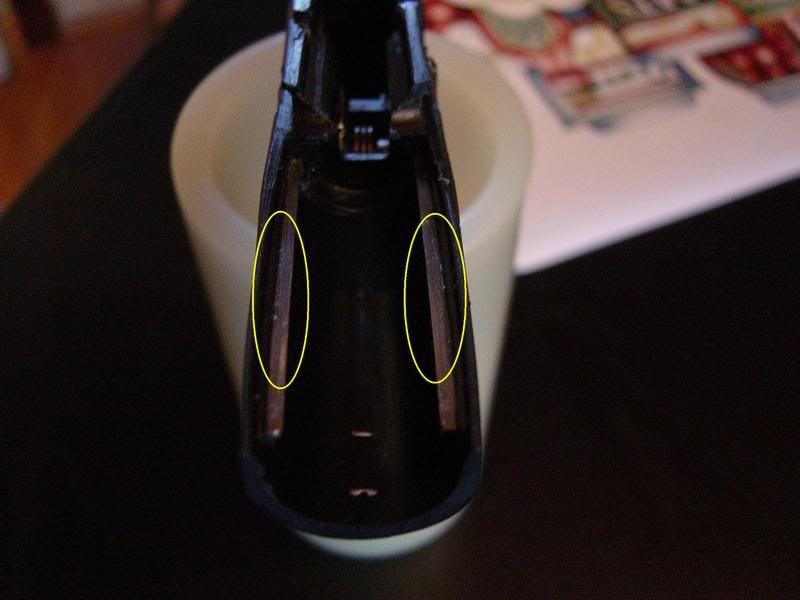 Rear of frame...notice the steel rails on either side. The "long" steel piece on the left is the ejector.
Close up of PM9 frame rail with slide fully retracted (barrel/recoil spring assembly removed).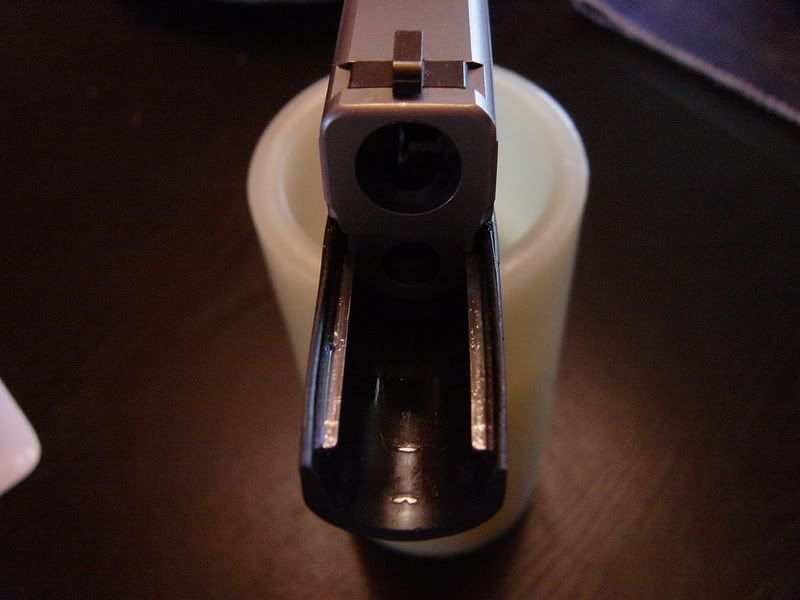 Top view of frame with front and rear steel rails. Notice the yellow circled areas and how there's more steel rail/slide engagement surface area than the slide/frame contact on a Glock. The red circled areas are the polymer "rails" that do NOT bear any load from the slide. Again, they're only there to guide the slide back on after field stripping and could be completely cut away and not affect function at all.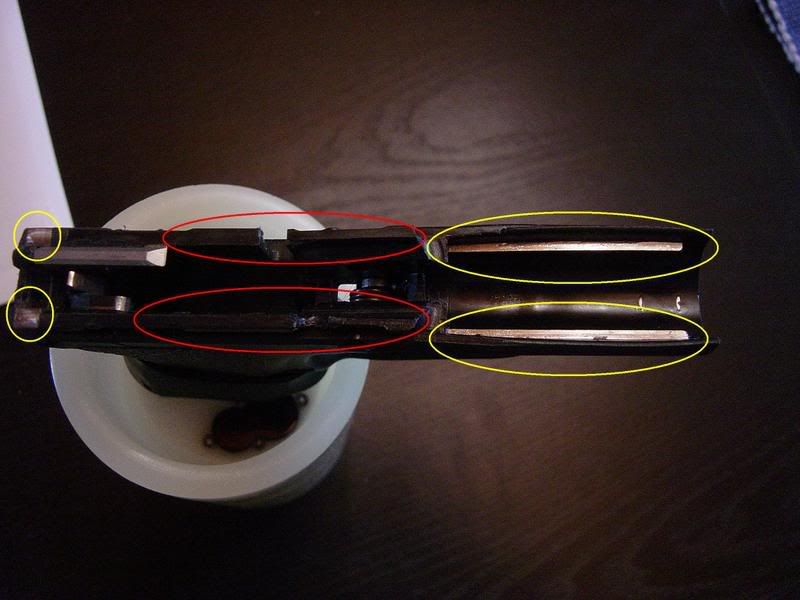 Circled areas are the four Glock (G19/same caliber) frame rail inserts, for comparison.