Bought a Hatsan Model 80 Break Barrel Air Rifle at Hahn Baguio of all places (it seems that the sales personnel in Hahn Baguio are more knowledgeable and accomodating than the ones in Hahn Mega Mall). They have new stocks now and they even have the Torpedo (the .22 caliber rated at 1000 to 1250 fps). The Model 80 is rated at 750 fps only but I chose it because I find the Torpedo very heavy (with twice the price at P14T +).
http://www.hatsan.com.tr/pdf/hatsan_airguns_08.pdf
I have an Armscor CO2 airgun (black with retractable stock) but I'm having trouble hitting targets at 25 meters (maybe it's only me - but I can hit small targets like soda caps - tansan - at 80 meters with the Remington 597 .22 LR so maybe it's not me).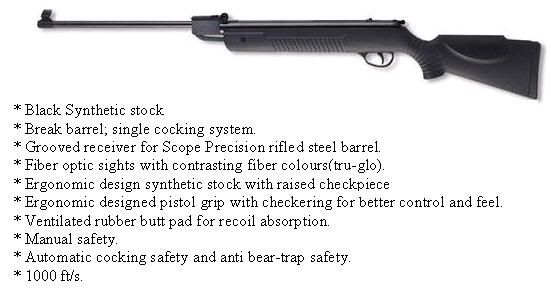 The Model 80 has many plastic components and is very difficult to cock as the mechanism is still stiff. Hope it loosens up some in time. Tried shooting soda cans at 15 meters (will try tomorrow at longer distances) as it was getting dark. Out of the box, the sights were set at the target hold as I was hitting high. It was centered when it came to windage. Will try to determine tomorrow the pellet penetration in wood. They say that the torpedo can penetrate a 1 inch thick wooden barrier. Am using dome headed Haendler & Natermann Diabolo Sport pellets. I was warned not to use certain local pellets because they get stuck in the barrel due to their bigger diameters.
For its price, I can say offhand that the Model 80 is a good buy.