"Here we GROW again"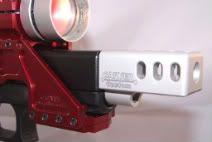 Glock .40 Comps
NOW Available
---
CARVER Custom
Glock 40 Caliber 3 & 4 Port Compensators
We have added compensators for Glock models G22, G23 and G35 to our lineup of competition custom parts. These compensators are now available for both KKM barrels with 9/16 x 32 tpi and LoneWolf barrels with 9/16 x 24 tpi. Each compensator provides the following features:
<li>CNC machined from high quality aluminum for durable performance
<li>3 Ports for factory and equivalent handloads
<li>4 Ports for Major loads and factory +P loads
<li>Side ports to maximize exhaust relief
<li>Contoured to fit and blend with the Glock slide
<li>Underlug channel for extended guiderods
<li>Available in either black anodize or clear anodize(silver)
<li>Easy installation
<br>
Compensators including barrel and comp combo deals are now available online from our secure website.
http://web.iwebcenters.com/bbenterpr...tCat44769.ctlg
If you have any questions, please either send me a PM on Glocktalk or email me at
carvermounts@msn.com
We've had many requests for the CARVER Custom .40 compensators. We appreciate your continued support and requests.
Thank you,
Bobby Carver