Got this the other week. It's my poor man's SOCOM rifle.
It's a Norinco SKS 7.62x39. It came with the stock in the picture, a Tapco T6 stock, 2 other compiste stock, the ATI Monte Carlo stock

and the ATI ultralight folding stock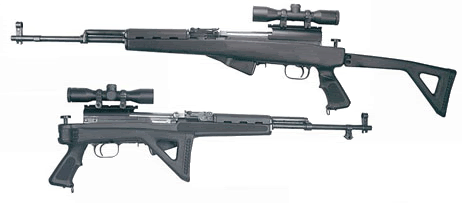 It also came with the original fixed 10-round mags and a detachable 37-round USA mags (shown in the picture) , stripper clips and lots of ammo. It also came with see-through receiver mount, TAPCO high visibility front sight. The original wooden stock and the folding bayonet is missing, but what the heck, for the price I got it, it's a real bargain.
All I need to convert the rifle into this is the bipod, scope and either a flash-hider or muzzle brake.
Weight of the rifle wearing the Tapco T6 stock is a little less than 7 lbs. empty