I did some tests with 45ACP and 9MM last year (
http://glocktalk.com/forums/showthread.php?t=1101023
) and have done some more tests this past week. Once again I have used wet newspaper and phone books soaked in water for over 15 hours. I did a mix of tests with 4-layers of denim and added some leftover pork ribs this time to see what how the hollow points would react to hitting bone. Below you will see some pictures with the ruff measurements I came up with. I also included my thoughts and general observations on the rounds. Please note these are only my opinion and I am no ballistics expert, I know there is no magic bullet and that shot placement trumps all. I just thought it would be interesting to see how the bullets performed on an equal playing field.
PB = Shot into phone books or bundled newsprint that had been soaked for 15 hours.
PB+Denim = Placed 4-layers of denim over the phone books. Denim used was old jeans folded over.
WJ = Shot into plain water jugs
PB+Ribs = I placed pork ribs about 1/4 inch into the newsprint.
Bullets are from left to right in the pictures. When I am giving the max and min measurements I am refer to the 6 talons or pedals. The max and min from outside petal to petal. Test weapons were HK p30 HK P2000sk and HK 45c. Shots were from about 10-15 feet.

Winchester Ranger-T 230gr 45 acp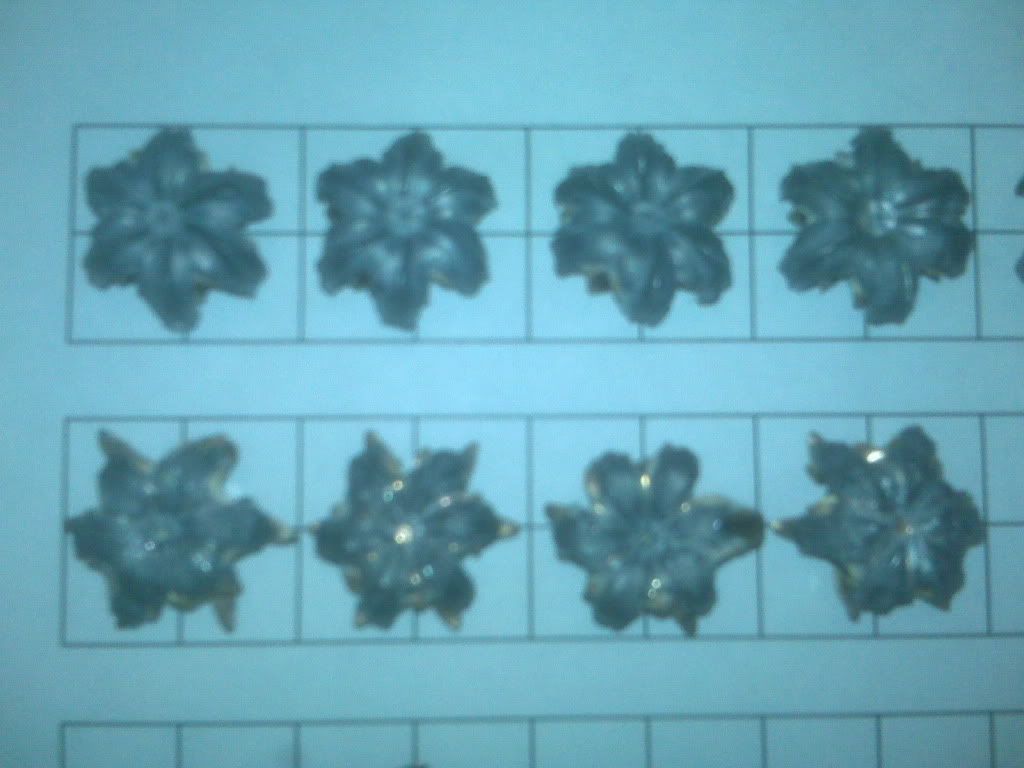 PB
max= 1.02 min= .93
PB+Denim
max= .86 min= .81
max= .95 min= .91
PB+Ribs
max= .96 min= .90
The Winchester Ranger-T's T-Series continue to impress. They seem to have no problems with denim or hitting solid bone. They also penetrated further than the HST's in this recent round of test(wet newsprint is a poor median to measure penetration). The wound channels left in the newsprint are really nasty looking. There is always a ton of newspaper stuck to the talons. The only thing that is of concern is there is usually slippage in the jacket, you can see the lead core is being pushed forward and separates from the jacket. The one that struck the bone looked identical to the others and penetrated as normal.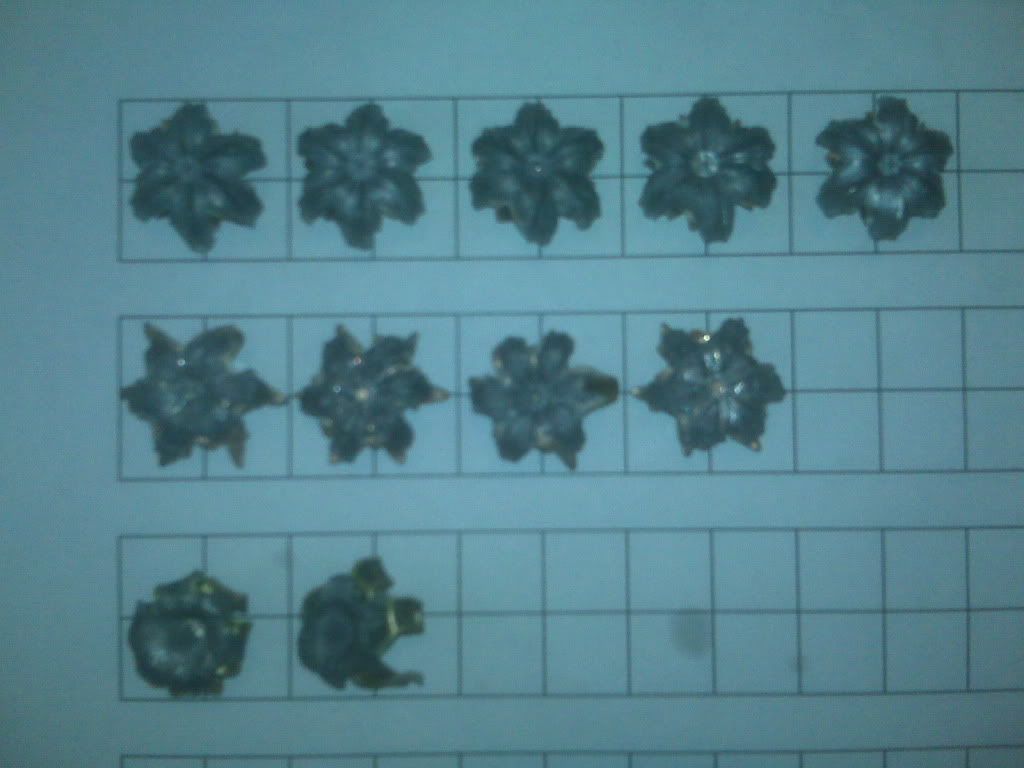 Federal HST 230gr 45 acp
PB
max= .89 min= .87
max= .90 min= .89
PB+Denim
max= .89 min= .85
max= .90 min= .88
PB+Ribs
max= .89 min= .87
This is the reason why I carry them in my HK45c. They consistently expand, no matter what they go through. The ones that went through denim look slightly different but overall expansion is the same. The bullet that hit bone punched a hole through the rib and kept going like nothing happened. For some reason penetration was a little less than the Ranger-T's this time, but it wasn't my much. I know the Ranger-T's seem to offer bigger expansion but the HST hangs on to its jacket better and expands more consistent than the Ranger-T. That being said, I shoot the HST better than the Ranger-T so I'll stick with the HST's in my carry gun.
Remington Golden Saber 230gr 45 acp

PB+Denim
max= .72 min= .70 core= .65
max= .76 min= .71 core= .58
The Golden Sabers did pretty good vs the denim, the core seems to expand slightly less compare to no denim. The second bullet had 1 petal that did not expand.
Corbon DPX 115gr +P 9MM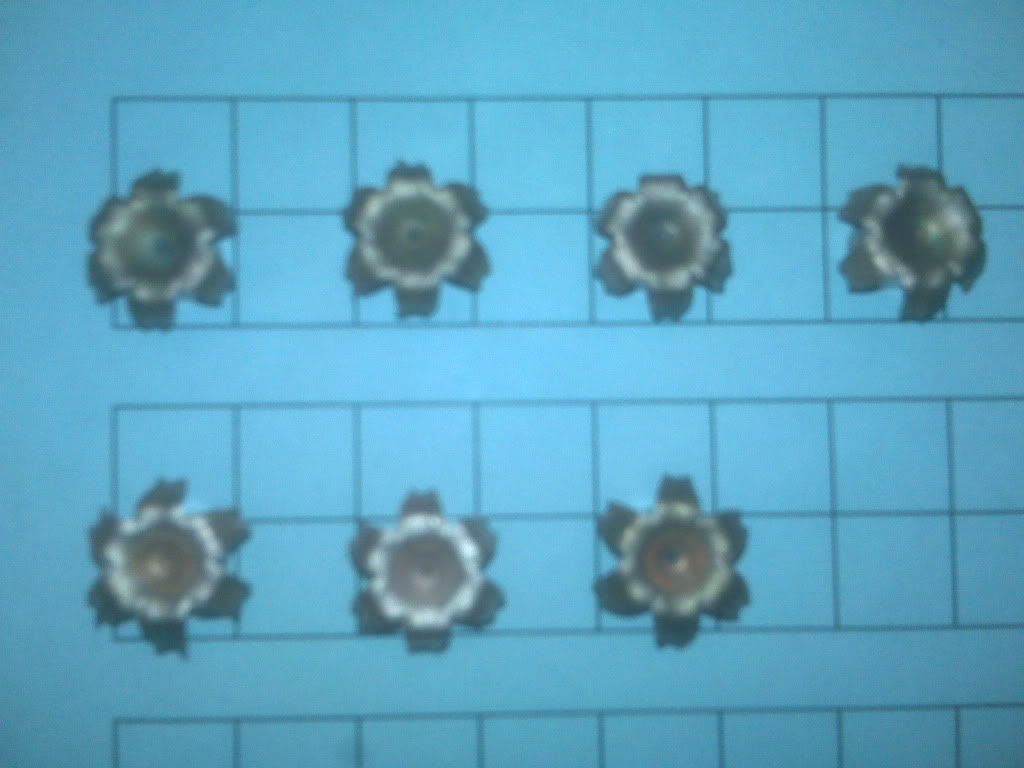 PB (P2000sk)
max= .67 min= .65
max= .68 min= .66
PB+Denim (P30)
max= .61 min= .61
max= .66 min= .61
PB+Ribs (P30)
max= .71 min= .70
max= .69 min= .67
WJ
max= .70 min= .69
I switched my carry round in my P2000sk from 124+P HST to the DPX after these results. They seemed to expand no matter what they go through. They may expand slightly smaller than some of the others but the consistent expansion is what I'm looking for. I was wondering how it would perform against bone due to the lighter weight of the bullet. It punched right through the bone on both shots and still kept going strait penetrating deeper than even the 147gr HST. Really impressive round, I just wish they weren't so expensive.
Federal HST 147gr 9MM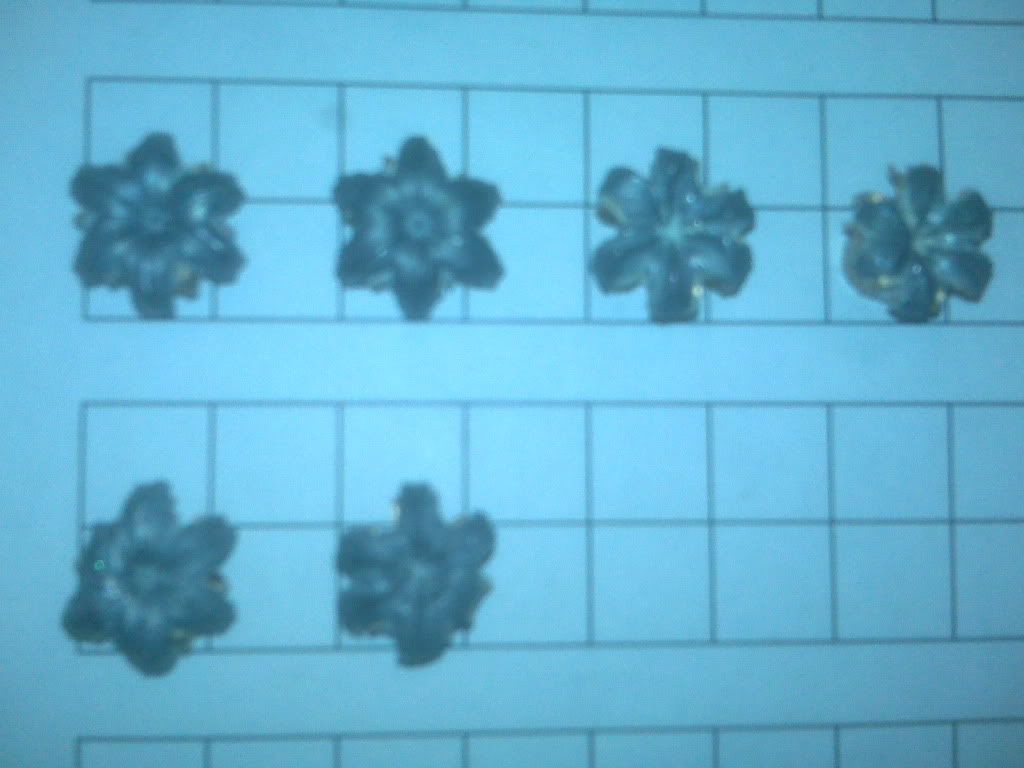 PB (P2000sk)
max= .75 min= .71
max= .76 min= .72
PB+Denim (P30)
max= .70 min= .69
max= .62 min= .60
PB+Ribs (P30)
max= .72 min= .61
max= .70 min= .61
I was suprised to see the smaller barrel of the p2000sk doesn't really effect expansion compared to the P30(about half an inch in difference). The HST performed OK against denim, but you can see a pretty big difference in the 2 rounds fired. Against bone the hist still expanded well, however both bullets lost a petal. For now I'm sticking with the HST in my P30.
Federal HST 124gr+P 9MM
PB (P2000sk)
max= .70 min= .66
max= .68 min= .61
PB+Denim (P2000sk)
max= .63 min= .59
This was my carry round for my p2000sk, they perform OK, however the petals seem to brake off. Also expansion vs denim was lower than what I was expecting.
Winchester Ranger-T 147gr 9MM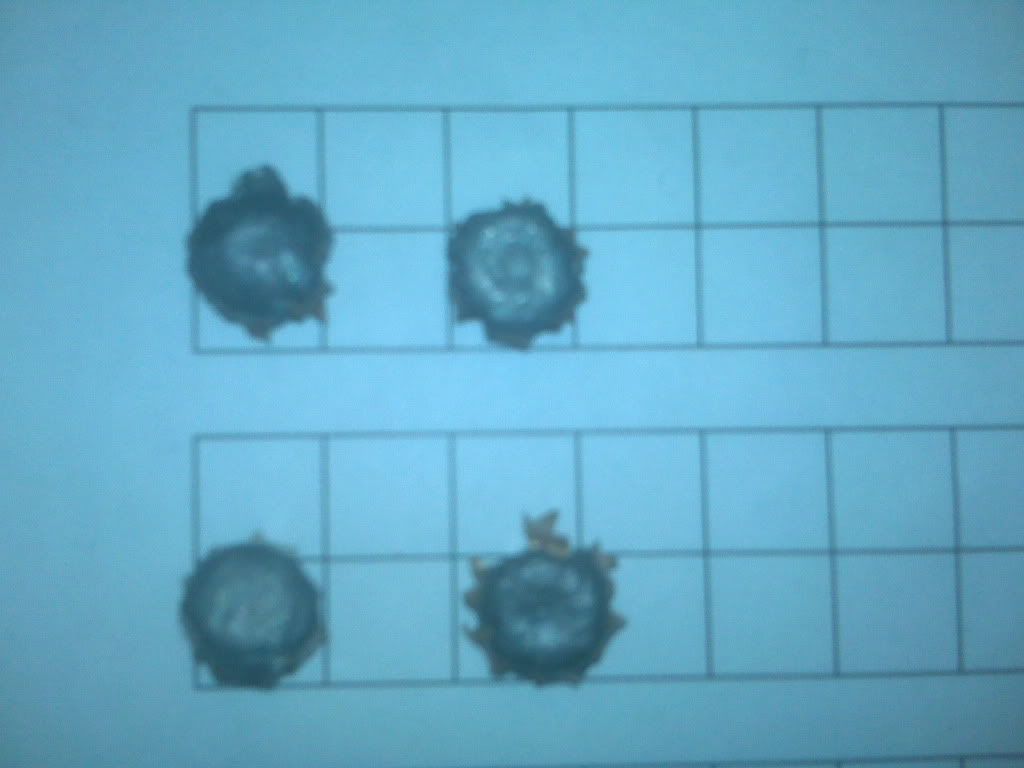 PB (P30)
max= .70 min= .59
max= .61 min= .60
PB+Denim (P30)
max= .60 min= .57
WJ (P30)
max= .70 min= .65
The 147gr Ranger-T performed pretty well, they expanded vs Denim with no clogging. The talons on the 9MM appear to start to fold back on the core instead of staying sticking out perpendicular to the core. Penetration was comparable to the other 147gr bullets, slightly deeper than the HST.
Winchester Ranger-T 127gr +P+ 9MM
PB (P2000sk & P30)
max= .74 min= .70
max= .70 min= .69
PB+Denim (P2000sk & P30)
Both shots penetrated 9 inches of wet newspaper and 2 water jugs behind the newspaper.
PB+Ribs (P2000sk)
max= .68 min= .60
WJ (P30)
Did not recover the core, jacket was left in the 4th water jug, core exited out the back and did not recover
Jacket max= .70 min= .62
I was curious to see the results of the 127+P+ as I was considering moving to it for my p2000sk. After seeing the denim results I will be sticking with the DPX. I was surprised that the 127 seems to have clogged on the denim, compared to the 147gr which expanded as normal. From the holes left in the water jugs behind the newsprint it looks like they did not expand.
Speer Gold Dot 124gr +P 9MM
PB (P2000sk)
max= .66 min= .63
PB+Denim (P2000sk)
max= .50 min= .49
max= .49 min= .48
I was really disappointed with the performance of the Gold Dots. I was considering this round for carry but after seeing the results vs denim I chose to go with the DPX or HST. I believe the lack of expansion vs denim might have something to due with the smaller and shallower hollow point cavity compared to other bullets.