Quote:
Originally Posted by
RHVEtte
You can reload it just fine. The only thing is that because it is a bottle necked cartridge, it reloads more like a small rifle round than a straight walled pistol round. The only thing I'd do is focus first on getting 9mm down pat, then transfer over to .357 SIG. A lot of my friends burned out on reloading because they tried to do too much too fast and inevitably buggered something up (none were hurt, but more than a few lost a barrel or some other part.)
For best results, no, it doesn't load like a rifle round. The neck should still be slightly flared, especially w/ plated bullets. It requires a good taper crimp, most rifle rounds do not. The 357sig can use SOME 9mm bullets, but conventional 115gr or 124grRNFMJ will
NOT
work. The bullets need to be a truncated cone design, either plated, lead, JHP or FMJ. Loading a RN profile 9mm will likely result in bullet setback & possible KB. Getting the dies setup is the tough part & then loading only TC style bullets, it loads much like any other service pistol round.
Bullets that I have loaded successfully in the 357sig:
Berry's 124grHP & FP
Ranier 124grFP
Hornady 124gr & 147grXTP
Sierra 124grJHC
Nosler 115grJHP (great for going fast)
124grLTC (Saeco or Magma design)
124grFP (Precision black)
102grRGS (the best for going fast)
88gr Rem. JHP
135gr SpeerGDSB (0.357")
135gr LHP (RCBS design 147grTC)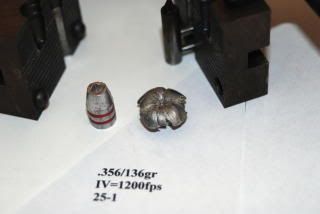 Any bullet w/ sim profiles will work equally well, including MontanGolds & Zero.