I bought some Black Talons awhile back, but also had some Ranger LEO SXT's as well. I figured since they are the same bullet, I could do some testing with the SXTs without wasting out of the black box of twenty.
I used water for this bout of testing. Its been awhile since I have made a block of gel, but had plenty of jugs saved up that I put to good use, something in the neighborhood of 30 jugs. I wanted to make sure I had enough. I know that water nor gelatin is a perfect substitute for flesh and bone, but it gives an approximate idea of expansion and penetration. All testing was done with my G27.
The first bullet from left was into water at 30 feet. Penetration was ~4 jugs, and I say around because it bounced off of the back wall and didnt penetrate the fifth jug. Thats 24" of water, which using an approximation of a 2:1 water vs. gel ratio is close to 11-12" of penetration. Expansion was right at .750". Bullet number two was fired at 10 feet from the jugs. Penetration was 3.5 jugs, as I found it settled in the middle of the jug, but left no indention on the backside. Thats around 10.5-11 inches and expansion was just a little under .740". Bullet number three and four were through 4 layers of denim. Third bullet at 10 feet, and the fourth at 30 feet. Both penetrated completely through 4 jugs and came to rest in the bottom of the fifth. Bullet three measured .685", and the fourth bullet, even though it looks smaller, measured .750" over the talons, which protruded farther than the exposed lead surface.
Bottom view of Black Talons: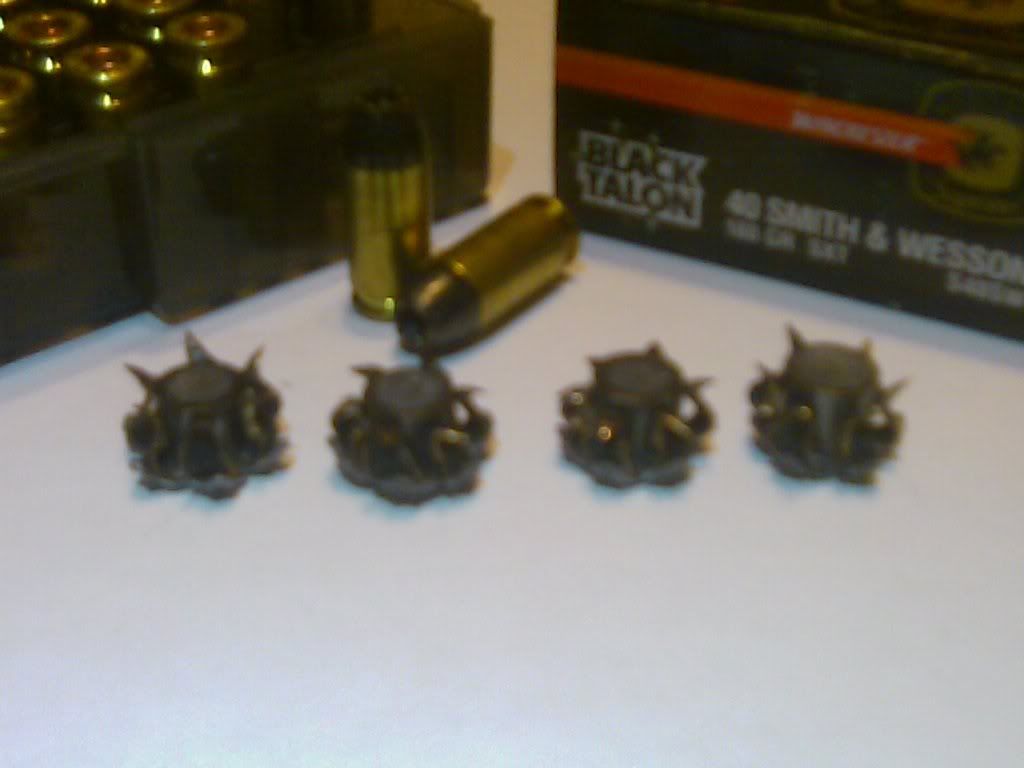 It had been along time since I have seen an expanded Black Talon, and even when comparing them to my Ranger T-Series, I noticed so many differences. Of course the obvious being the Lubalox coating on the BTs, but that should go without saying. LOL But the other main difference was the talons themselves. The Black Talons are ALOT sharper, and I cannot emphasize that enough. One actually stuck in my finger just by picking it up and drew blood. No, I'm not babying, just stating a fact.
The Rangers are sharp, but nowhere near the BTs, but their talons are stiffer. I also noticed that the jacket is thicker on the T-Series than it is on the Black Talon.
The Black Talons have come a long way since their inception in the early 90's, and I am glad that I was lucky enough to be able to own some again before prices to start to really skyrocket even further out of control. They are still around today, just naked in a since, letting its black dress off and skinny dipping in the guise of the Ranger T-Series.
Burk