I have once again vanquished my opponent... this time the 'Terrible Toy'.
Ignoring the instructions of Board Certified doctors, laughing off the warnings of well meaning nurses and sneaking around so my daughter and son-in-law wouldn't catch me, (I bribed the grandkids with bubble gum and folding currency to keep quiet), I finally got the almost deadly Dillon 1050 installed.
It took longer than I had anticipated, I couldn't understand why I kept getting so tired and short of breath. In between blowing bubbles and demanding ever increasing bribes my grandson pointed out that I kept standing on my oxygen hose. (I am as of yet undecided if I'm going to let him get any older.)
Had to do a bit of remolding to get it to fit in the only open space on the benches. (Could have used Little Stevie's expertise in construction but I managed to muddle through it.)
The Co-Ax press needed to be moved 4 inches to the right to allow for unobstructed operation of the handle and the Star sizer went to the left 4 inches so the swimming pool sized catch bin could be attached. Luckily the case feeder hopper is far enough to the rear of the press to offer me an unobstructed view of the flat screen.
This is a good lesson for all the newbs out there... always pay careful attention to detail when adding and mounting new equipment.
For all you Blue Smurf lovers out there who may think that I have defected to the other side let me be the first to dash your incorrect assumptions upon the rocks.
To the left of the 1050 is a bench with 2 RED LNL's. To the right is a bench with 2 BLUE Dillons. The uninformed might think that the addition of the 1050 might make the count 3 BLUE machines to 2 RED machines. HA!!! The 1050 is not blue... it's gun metal grey! Count the RED Co-Ax and the two RED MEC's and the actual count isn't even close.
Hope to give the machine it's initial workout tomorrow and see how long it takes me to screw it up. I'm guessing no longer than 6 minutes.
One of these days I'll actually learn how to take a good picture.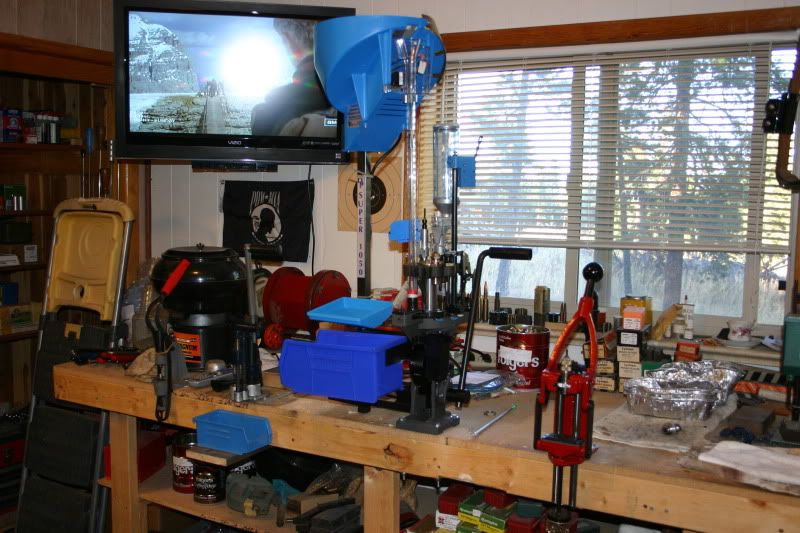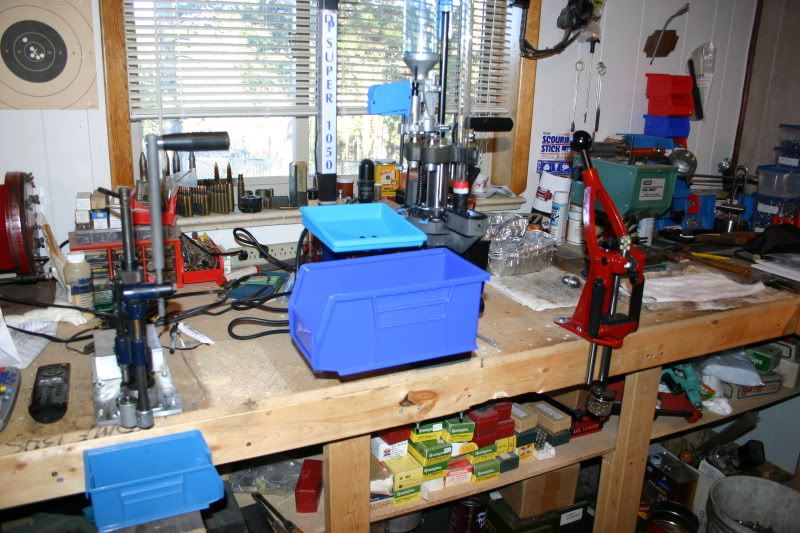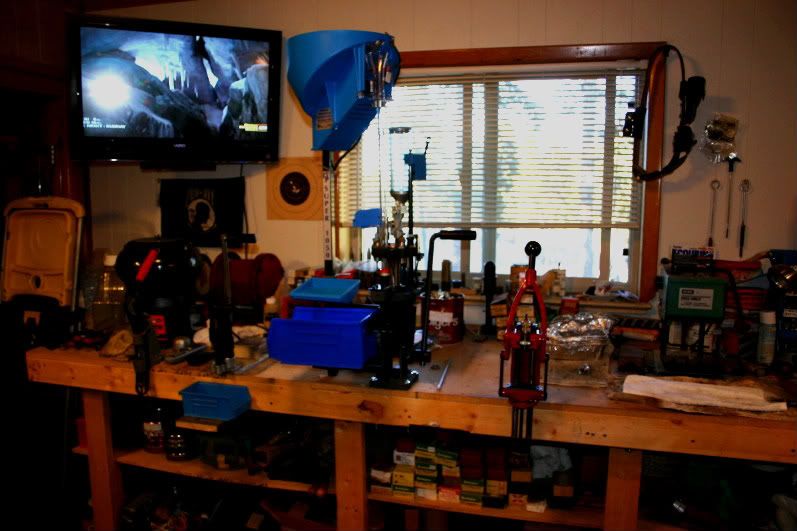 Oh, BTW... Cliffhanger with Sly Stallone was on the TV... figured I'd say it before Wisky did.
Jack