I do a few things, either out of necessity (left-handed items like knife sheaths) or sometimes just because I think I can do a better job of creating exactly what I want, rather than selecting 'pretty much' what I want from a list of things that someone else thinks will sell. Not a lot of things, but a few. With manufacturing being as efficient as it is nowadays and the economies of scale that are achieved, manufactured gear is usually a better option imo - not always, but usually.
My most-used home-made items are a left-handed knife sheath and an Askins Avenger-style holster for an old detonics 45. The knife sheath, because I'm left-handed with most things, and the holster because nobody offered exactly what I wanted, for exactly that gun size - smaller than an officer's model. (Right-handed holster; shooting is one of the things I do right handed)
The holster is actually an example of why manufactured is usually more practical. It took me probably 9-10 hours to make that little thing, as I went to the trouble to wet-fit & mold (bone, for any leatherworkers out there) it to the gun when making it. Thing fits so well that even at 12-13 years old now, you can shake it while holding it upside down and the gun still won't fall out. Just a lot of labor involved to try & get that exact a fit on a one-off item like that.
Another, much-less-detailed yaqui-slide type holster for any size 1911: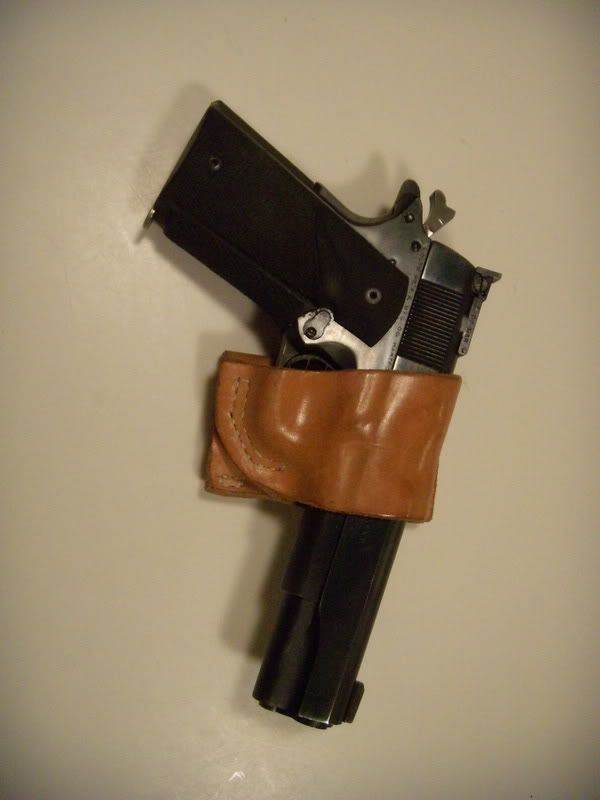 One home made thing I don't use anymore - a cobbled-up adapter that let my previous cell phone run off AAA batteries. Haven't made one up for my new phone, but worth considering for an alternate power source for your phone in long-term power outages, long hiking treks, etc. (They may be commercially available now for all I know - it was 6-8 years ago I made this one.)