Ruger Chargers a super fun to shoot, but they are not for everyone. Some guys that have been shooting conventional handguns for years have a hard time adapting to the Ruger Charger. However us guys that have shot Speciality Pistols (T/C Contenders & Encores, Remington XP-100's and Savage Strikers) have long awaited for a handgun such as the Ruger Charger.
I recently Custom Built a Ruger Charger. I started out with a Factory Ruger Charger and did away with the parts I did not want, mainly the factory stock, barrel and trigger group. I replaced the factory trigger group with a Ruger Aluminum 10/22 Trigger Housing that had been sent to TT Shooter for one of his Precision Trigger Jobs that breaks like a glass rod at 1 3/4 lbs. For the Barrel I used a KIDD 10" Bead Blasted Stainless Bull Barrel. I then sent the Receiver, Scope Base and Aluminum Trigger Housing to Norrell's to have done in the Norrell's "Stainless" Moly Resin Finish (which actually matched the Bead Blasted Stainless KIDD Barrel fairly well.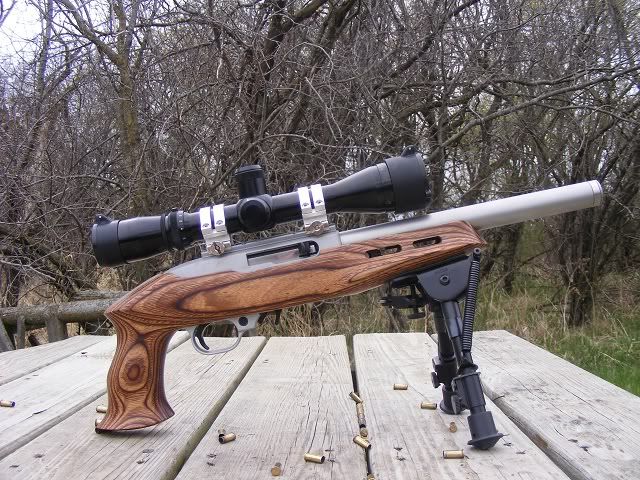 My gunsmith buddy and I are in the process of building a Custom Ruger Charger Stock in which we are using a 10/22 Carbine Stock with the Pistol Grip and Buttstock removed and are attaching a T/C Contender Pistol Grip to it. With a little luck my Custom Stock will be done prior to our Indoor Bench Rest Competitions this winter.
In the meantime my Custom Ruger Charger is in a Tactical Innovations REBEL Charger Stock. Sitting on top of the Custom Ruger Charger is a Burris 3x12x LER Fine Plex PA Handgun Scope.
A couple weeks back I had it to the range and shot 10 - 5 shot groups at 100 yards from the bench. The overall average was right at 1 1/2" with the two best groups measuring .880" & .908" center to center.
Yep I really like my Ruger Charger.
Larry