Hi
Glock 20-SF factory barrel and spring
I did a little preliminary shooting with some Hornady 200gr HAP bullets. First time shooting any 200gr bullets.
Well, first off I found out 10.0grs of Blue Dot is too hot for this gun.. I Got smileys on all but one case. 9.7grs is about max here..
8.2grs LONGSHOT was a bit too hot as well.. I got smileys on three of five cases.
800-X did pretty well. I could take it up one notch. Case measurements were fairly consistent.
2400 was kinda weird as pressures were all over the place but, gotta say it was pretty accurate. But if velocity is a factor, 2400 is not so good.
This is the very first time I had a split in a new Starline case..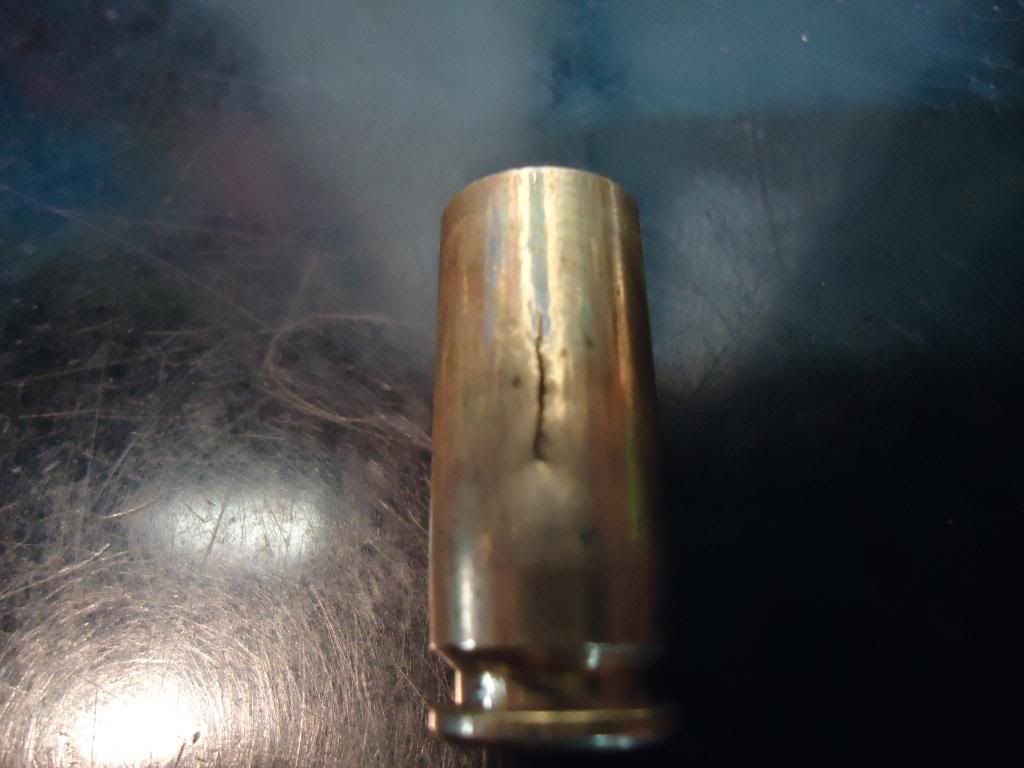 I also got a split case with 13.0grs of AA#9. So thatís two today. Is there something about 200gr bullets that causes this?
Iíve heard on more than one occasion that VIHTAVUORI loading data is a little off.. Gotta agree.
Pretty disappointing velocities. But, according to the case head measurements, I could take this up a notch or two.
But the winner today has to be 13.5grs AA#9..
Good velocity, good accuracy, acceptable and consistent pressure.
Case head measurements;
BLUE DOT
9.4grs .4341, .4334,.4341, .4343, .4335
9.7grs .4343,.4340, .4339, .4344, .4342
10.0grs .4340,smiley, smiley, smiley, smiley
LONGSHOT
8.2grs .4340,smiley, smiley, smiley, smiley
800-X
8.7grs .4335,.4338, .4339, .4335, .4333
9.0grs .4335,.4339, .4341, .4337, .4339
2400
11.5grs .4343(splitcase)??, .4336, .4339, .4330, .4330
12.0grs ,4343(smiley)?, .4338, .4337,.4338, .4331
AA#9
13.0grs .4340(split)??, .4339, .4340,.4338, .4339
13.5grs .4346,.4342, .4339, .4340, .4334
N-105
9.2grs .4330,.4328, .4335, .4336, .4332
9.5grs .4340,.4332, .4332, .4339, .4337
Well, thatís it Ďtil next time..