I posted this in GNG in the 'Canon or Nikon' thread, but I felt I over-answered the question,
so I picked up and moved down here...
I just recently sold my G19, G26, G21 upper, G30 upper, a 55 gallon aquarium combo,
and a few other things to buy this...
My camera came with the 18-55mm lens, not the 17-85mm like in the photo...
The 17-85 is on the list...
The Canon grip and Canon off camera flash cord came today...
The Canon 580EX flash came last week as well as a 100-300MM telephoto lens...
No, I don't know how to work it! ;P
Good thing it works by itself if I need it to...
It's totally made for this camera...
I just got the tasty and highly regarded Canon EF 50mm F/1.4...
Killer optics and a great portrait lens with the 1.6 crop...
This EF-S 10-22 is killer sharp...
This Canon EF 85mm 1.8 is insane as a portrait lens, especially in low light...
I sold all of my Canon camera equipment when my wife got sick a couple years ago...
I had 6-7 AMAZING lenses that I could really use now... Grrrr...
I still had this Stroboframe from before...
This lets me flip from vertical to horizontal with the flash always on top, like this...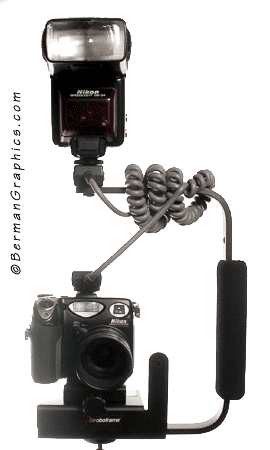 I had to get back in action, and I couldn't be happier with this 20D...
Absolutely incredible... perfect...
I was going to get the Rebel XT but this is more solid and impressive for my intended use...
Sometimes I assist my pro friend with weddings or whatever, and want to get more serious myself...
This fit the bill big-time...
I've always had Canon and I've never been disappointed...