Ok guys, it is that time again. Ahead is my analysis and picks for UFC 88: Breakthrough from the Philips Arena in my hometown of Atlanta, GA. Unfortunately, due to the lowest priced tickets being $150 and that stupid activity known as "work," I cannot attend.
Preliminary bouts (non-televised)
Roan "Jucao" Carneiro vs. Ryo "Piranha" Chonan
Although Chonan holds a submission win over Anderson Silva by flying-scissor-sweep-heelhook (no, I am not being funny, he really won like that), he has never really shown the ability to put together wins over quality opposition on a regular basis. On the other hand, there is dispute as to whether Carneiro is really quality opposition. Chonan already holds a win over him and despite his BJJ black belt, Carneiro lost by submission to a BJJ blue belt in his last fight. I am 50/50 on this bout, but I say Carneiro by submission just because then he would be 1-1 against Chonan and I like parity.
Jason "The Punisher" Lambert vs. Jason "The Athlete" MacDonald
Both have had rocky paths lately but MacDonald has had the tougher opposition and looked better than Lambert, so I say MacDonald by Submission.
Matt "The Immortal" Brown vs. "Stun Gun" Dong Hyun Kim
I like Matt Brown from his time on TUF. As a result, I am picking Brown to win because I have seen what he can do and Kim is still kinda unknown to me. But I will not be surprised to see the Korean pull it out.
Tim "The Barbarian" Boetsch vs. Michael Patt
I don't know Patt, but I have to root for Boetsch. You may remember his Octagon premier...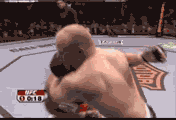 Boetsch by street beatdown.
Thiago Tavares vs. Kurt "Batman" Pellegrino
Tavares is a good future prospect but this fight is happening now and Pellegrino just has too much for him. Pellegrino, TKO 2nd round.
Undercard Bouts (Televised)
Martin "The Hitman" Kampmann vs. Nate "The Great" Marquardt
Now THIS will be interesting. Marquardt is the former two time King of Pancrase and Kampmann is known for his surprising submission prowess and vicious Muay Thai. Marquardt has been on a bit of a slide recently and Kampmann has been on a hotstreak. I think this trend continues with an exciting KO by Kampmann in the third.
Dan "Hendo" Henderson vs. Rousimar "Toquinho" Palhares
Hhhmmmm...the highly decorated BJJ black belt Palhares vs. the two time olympic wrestler in Henderson. Palhares is a very dangerous man on the ground with an absolutely frightening 75% of his wins coming by submission and all of Henderson's stoppage losses have been by submission. On the other hand, a threat standing Palhares is not while the highlight reel KO of Wanderlei Silva is testament to Henderson's punching power. This fight could go either way and should be interesting to watch, but not too sure about exciting. The choices as I see it are a (T)KO or plodding decision win by Henderson or a slick submission from nowhere by Palhares.
Karo "The Heat" Parisyan vs. Yoshiyuki "Zenko" Yoshida
I don't particularly like Parisyan, but I want to watch his fights because I like watching people fly through the air. I don't care who wins, just so long as there are Judo throws galore.
Rich "Ace" Franklin vs. Matt "The Hammer" Hamill
I have to say that as much as I like Franklin, I have Hamill winning this fight. Franklin's last fight at 205 was against Ken Shamrock who's last win was when the UFC was still in the single digits. Hamill is a STRONG 205er and Franklin is not going to be used to being the smaller man in this fight. Unless Franklin lands a fight ending one-hitter-quitter like he did on Nate Quarry, I see Hamill by decision.
MAIN EVENT
UFC LIGHT-HEAVYWEIGHT DIVISION (185.1 lbs-205 lbs.)
"Sugar" Rashad Evans
5'11" 205 lbs.
(16W-0L-1D)
vs.
Former UFC Light-Heavyweight Champion
Chuck "The Iceman" Liddell
6'2" 205lbs.
(21W-5L-0D)
Yeah, I see this fight being short, brutal and bloody. I guess this is as good a time as any to test Evans, but he squeaked to a DRAW against a guy that Liddell has KOed TWICE. I know MMAth doesn't work, but Evans is a less skilled version of Tito. How do I see this ending?